MITS - 88 ADC Analog To Digital Converter Board


Probably reflecting upon the companies early roots only Cromemco at the time offered a similar S-100 card. This is the best picture of this relatively rare board I could locate. If you have a better one and would like to share it please let me know.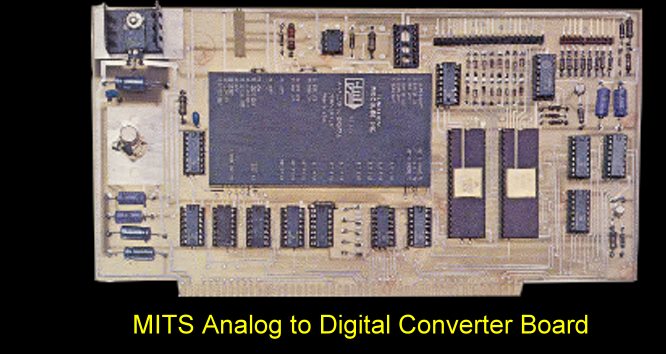 The 88 ADC was a high accuracy Analog to Digital Converter that was used to input analog signals to the Altair computer. The 88-ADC included a buffer amplifier (with a true differential input instrumentation amplifier option), an 8-channel multiplexer (used to select one of the 8 input signals), circuitry to address the card (the 88-ADC is treated as an I/O device), and associated timing circuitry. Resolution was 12 bits with a 50 micro second resolution time.

The manual for this board can be obtained here
.
Other MITS S-100 Boards
1K RAM
4K RAM
4K Dynamic RAM
16K RAM
16K Dynamic RAM
4PIO
8080 CPU
VI/RTC
PCI
ADC
2K PROM
8K PROM
88-2 SIO
SIO-B
MITS FDC Boards
TurnKey Board
This page was last modified on 10/25/2013