Compu/Time - Clock & Calendar Board

This board utilized the popular MSM5832 real time CLOCK/CALENDAR chip designed for use in bus-oriented microprocessor applications. They called the board the "Computer Watch".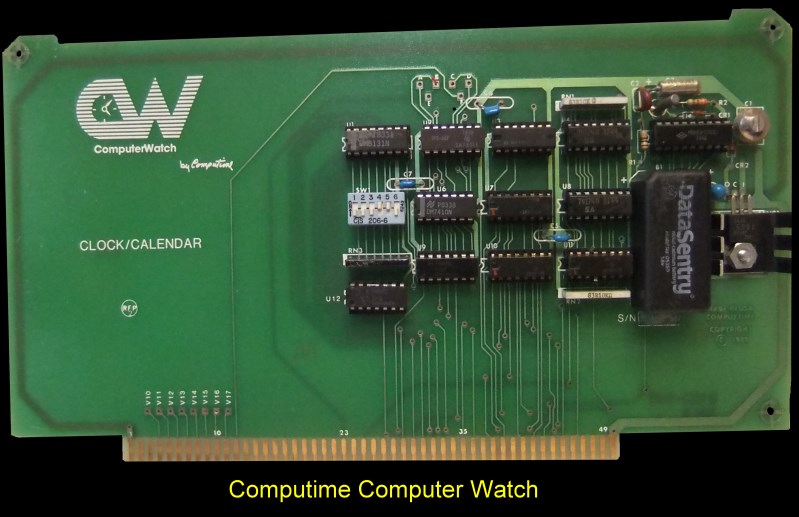 A 32.768 Hz crystal controlled time base provided addressable 4-bit I/O data of SECONDS, MINUTES, HOURS, DAY OF WEEK, DATE, MONTH, YEAR. The data access was controlled by a 4-bit address, read, write, and hold inputs.
Features include:

Time in Hours, Minutes, Seconds
Program selectable 24 hour or 12 hour format
Date in Month, Day, Year, Day of Week, Leap recognition
Fast time and date setting
+/-30 Second adjust
Four hard interrupts. 1024Hz (~1 millisecond), 1 Hz, 1 minute, 1 hour
Crystal controlled time base
Latched input and output ports
On board battery backup power
Automatic power off sensing
Simple programming interface

Applications of the boards features were limited only to the imagination. Applications included, time or date stamping of reports, checks, letters, file updates, calculation of time intervals, recording measurements, etc.
The manual for this board can be obtained here.
Leo Biese and Emilio Lannuccillo wrote up a great review of this board for Microsystems in March 1982, (Vol 3, #2, p 52). It can be obtained here.
Other Compu/Time Boards
Clock/Calendar Board
FDC
SBC
256K RAM
This page was last modified on 10/25/2013