I just got the Saleae 16 channel analyzer. Much better than the 8 channel one. Now if you reduce the number of channels you can go up on the speed. With 3 channels you can the clock to 50mHZ. There coming out with an analogue+digital one next month I seem to remember. However as Don says not cheap. Still a problem with getting a printout of the data BTW.
On the one below Don, I don't see the pin connectors. Make sure they are included as these are specialized for that socket.
John
From: n8vem...@googlegroups.com [mailto:n8vem...@googlegroups.com] On Behalf Of Don Caprio
Sent: Saturday, April 26, 2014 7:34 AM
To: n8vem...@googlegroups.com
Subject: [N8VEM-S100:3293] Logic Analyzer
I've seen these inexpensive 8 channel logic analyzer's on eBay
(Chinese Saleae knock off no doubt). While I hate supporting
unauthorized Chinese rip off it's tempting due to the low cost (~ $15).
Does anyone know anything about these? They say to download software
direct from Saleae site. Are they unauthorized clones?

Thanks.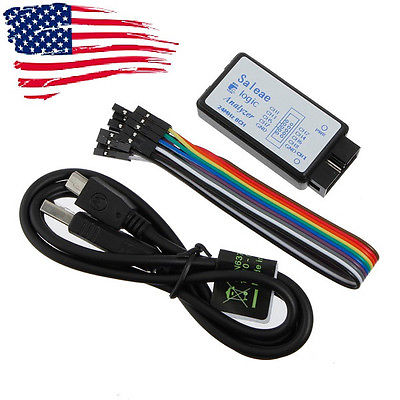 http://rover.ebay.com/rover/0/e11400.m1842.l3160/7?euid=a253c857b2714ac39ab4491bde3d57fe&loc=http%3A%2F%2Fcgi.ebay.com%2Fws%2FeBayISAPI.dll%3FViewItem%26item%3D271459702980%26ssPageName%3DADME%3AL%3AOC%3AUS%3A3160


-- 
Don Caprio
ilv...@gmail.com
--
You received this message because you are subscribed to the Google Groups "N8VEM-S100" group.
To unsubscribe from this group and stop receiving emails from it, send an email to n8vem-s100+...@googlegroups.com.
For more options, visit https://groups.google.com/d/optout.